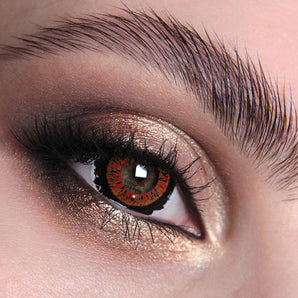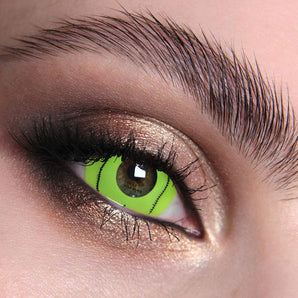 Want a truly amazing way to colour your eyes?
It's all here with the incredible range of Sclera contact lenses.
These lenses are specially designed to transform your eyes into something from another world.
Ready to blow people's minds with your Halloween outfit or costume party look? This is a guaranteed way to send shock waves through the party when you walk in the door wearing your new Sclera contact lenses.
The secret is that these contacts don't just change the colour of your eyes, they cover the whole eye and give it a fascinating and mesmerising appeal.
A range of the best in strange and sensational looks
You can really make a fashion statement when you wear a pair of Sclera contact lenses to any party. These are the lenses that will convert almost any Halloween costume into something captivating.
You'll look like you stepped out of a special effects film set. The selection of lenses are some of the most popular and fashionable going around. There's a world of different colours, designs and styles, that the choices are almost endless.
Just have a look at some of the options of Sclera contact lenses and Mini-Sclera range that could be yours for your next dress-up occasion:
That's just some of the other worldly looks you can get.
All Sclera contact lenses are ISO certified and come with a CE marking. You can wear them up to 3 hours at a time and that's plenty of time to scare the pants of everyone else at the party and have everyone talking about you and those eyes.
If you want to put yourself in the box seat to win Best Dressed at the next party you go to, just add a few special effect products and you're set. A little splash of fake blood, some special body paint and wax will make you look like a professional make-up artist worked their magic on you.
The lenses that defy the senses
Sclera contact lenses from Colour Your Eyes are dead set amazing contacts.
Get a pair or two and see what a difference you can make to your Halloween or costume party outfit.
Go on, you know you want to look amazing.
The great range is right here and waiting!
The best part is they're yours online, anytime.
You can transform yourself into something spellbinding when you Colour Your Eyes.