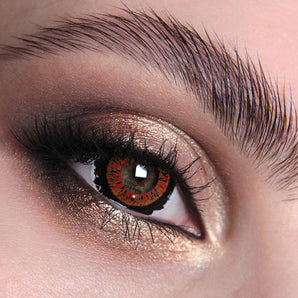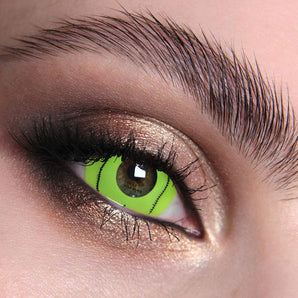 The easiest way to get one of the freakiest looks for Halloween or a Fancy Dress – that's 17mm Sclera lenses
Sometimes a fancy dress or Halloween costume is missing that extra magic to make it an absolute winning outfit. That's where the power of something special is needed – that's the power of 17mm Sclera lenses.
These are the freaky wonders that play tricks on the mind and work a treat for a weirdo Wow factor.
You can be spooky or kooky in a whole range of cool coloured contacts. If there's one look that packs a powerful punch in the freak out stakes it's the great styles you can find in 17mm Sclera lenses.
The unique thing about giving you a look that's all your own is the way these special Sclera lenses transform your eyes from windows to the soul to life of the party. It's no wonder these are the lenses that party-goers everywhere are snapping up at the first chance.
What exactly is so special about Halloween 17mm Sclera lenses?
You may not know anything about mini Sclera lenses and what a special ingredient they become for the best fancy dress and Halloween costumes.
The thing about mini Sclera lenses – like 17mm Sclera lenses – is the way they cover the pupil of your eye with a freaky look of your own choosing. The clever and daring designs cover a portion of your eye but are still see through. Pop in a pair of the Mini Sclera lenses everyone is talking about then watch the whole range of strange reactions.
There will be shrieks, total freak outs and even just the classic 'standing dead still with mouth wide open' responses. It's all down to what choice of freaky fancy dress weapon you have working for you.
These are the coloured contacts that make one hell of an impact.
Some seriously wicked looks
We can all be a little nervous when we walk through the door and into a fancy dress or Halloween party. There's a whole load of things going through our minds at that moment;
Do I look okay?

Does my costume really work?

Will I stand out at all?

Will anyone even notice me?
There's even more going on in that head of yours, but one thing's for absolute certain – with your pair of Halloween 17mm Sclera lenses in – you're answering a big fat Yes to all those questions.
These are the lenses that take any costume or fancy dress outfit and make it all the more impressive.
Just think for a minute of dressing up as say a Vampire. You've got the cape, the fangs and the blood spill all working for you and then you pop in a pair of 17mm Mini Sclera Vampire lenses – and suddenly, you're the best dressed of any vampire at the party. Talk about a winning edge!
It's the same story if you come dressed as a freaky creature or beast – with Mini Sclera Beast lenses in, you're going to look out of this world.
Your ticket to looking supernaturally sensational
These lenses are the super way to get a supernatural look. It's no surprise that these are the coloured contacts that are so popular in the TV and movie industries. Everyone will think you've got some special help from a professional make-up artist – that's how awesome you'll look.
These days, you there's a great range of looks when you buy 17mm Sclera lenses online.
Don't just go with just any supplier though. The last thing you want is to get burnt by buying cheap and nasty lenses that are a waste of your time and money AND could be a danger to your eyes if and when you wear them.
The great news is that you can get top quality contacts when you buy 17mm Sclera lenses online from Colour Your Eyes.
These are the best 17mm Sclera lenses around, made in strict accordance with the EU Cosmetics Directive and are European Quality CE Marked.
How to get the ultimate shock value for a great price
There's only one place you need to know when you're looking for the best Fancy Dress and Halloween 17mm Sclera lenses.
That's Colour Your Eyes.
The range is freakin' fantastic and the quality is top notch. Talk about value! Here's your chance to get your hot little hands on an unbelievable look at an unbeatable price.
The best part is, you can buy 17mm Sclera lenses online, anytime.
For a dead-set gorgeous pair of scarily good lenses, all you have to do is Colour Your Eyes.