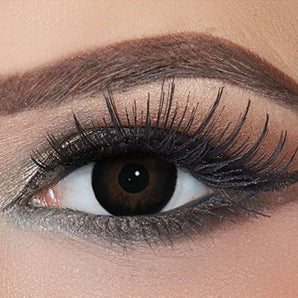 BLACK OUT CONTACT LENSES GET THE BEST FREAK OUT


There's a way to get the full, fun freak effect in the simplest way.


All you need to steal the limelight is go dark – really dark – and you won't get darker than wearing your new
blackout contact lenses
.


This is your chance to shine without needing to try. The limelight will be all yours.


Colour your eyes in the darkest shade and people will be talking about you all night.

It's not like you're going to shock
every
other party goer, but you probably will. So Sozz everyone else!


Dive into
blackout contact lenses
and make a real splash at your next party.


The Beauty Of Blackout Contact Lenses


You might ask yourself "Will I be able to see properly?"
The answer is an absolute YES.


The best thing about getting the best blackout contact lenses from Colour Your Eyes is you look great and you can see perfectly.


How?


A nifty way to look cool and nifty way to be thrifty too. You can get these amazing
black sclera contacts cheap
with Colour Your Eyes and save a heap too.


Dress To Impress At Your Next Fancy Dress


Fancy a freaky fancy dress costume?
Top it off by topping off your eyes in
black sclera contacts, cheap
and cheerful – well, you might get an earful of shrieking friends and startled strangers.
Could be an idea to wear earplugs - there could be some serious screaming going on when they take one look at you and your
black Halloween contact lenses
.


Go Freakout in Blackout contact lenses


Will these new blackout contact lenses affect your vision? Do you need a prescription for them?
No need to see the optometrist and no need to worry.


Your black sclera contacts are dead set non-prescription wonders. No increase or decrease to your vision so they're suitable for all eyes. Your vision will stay normal while your new look will be from another world!


You won't see yourself in the same way. These special Sclera
blackout contact lenses
 have been seen in a whole list of movies. You're going to look like you stepped off a film set, so get set for a truckload of compliments and a whole lot of attention.


OMG from CYE


Colour Your Eyes has an incredible range of coloured contacts and Halloween/Costume lenses.
Get a look that's out of this world that won't cost you the earth.
We're proud to offer you top quality lenses - The best of a true British brand.


Remember, there's the bonus of fast free shipping across the UK & USA.
That's 1 to 4 days and they're in your hot little hands.


What are you waiting for? Right Here – Right Now.
The perfect pair of coloured contacts is ready to go.


Colour Your Eyes – your 24/7 coloured contact store with more.