22mm Sclera Contact Lenses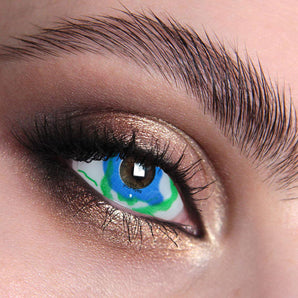 Look at the power you get from 22mm Sclera contact lenses
There should almost be a license to be able to wear Sclera contact lenses. They are so bloody good that they're dangerous. Talk about taking any Halloween or Fancy Dress outfit up to 11!
Full on freaky fun is all yours with Sclera contacts.
Really? Is it fun to scare the pants off people with weird and wacky coloured contact lenses?
You bet your (insert your favourite body part here) it is! You have the freakiest eyes going around with a pair of Sclera contact lenses working for you.
A look that's chock full of shock
The thing about Sclera eye contacts is just how unbelievably good you can look in any pair.
Friends, family and everyone else will think you've either gone to see a professional make-up artist or you are actually possessed. That's how realistic these unreal coloured contacts are.
They give you a freak-out factor like nothing else.
Forget thinking that some fake blood or a realistic scar can do the job anymore. If you want to get your freakiness really firing then you have to see just how amazing Sclera contacts can be.
It's not just a change of look. It's a total transformation that will have jaws dropping and people losing their shi..., umm, minds!
Scarily good lenses for a great fancy dress look
These lenses are not for the faint-hearted or the cuddly types.
When you wear a pair of Sclera contacts, you are going all out for a freak-out. There's no way to pull back the power of your frighteningly freaky eyes. These lenses are so beyond just being 'in your face' they almost slap you.
One thing's for dead certain, nobody and no-one is ever going to forget when they first set eyes on your peepers.
You'll be getting all sorts of wild reactions. From swearing, screaming, fainting and even running for the door. As far as making a splash at a party, you couldn't ask for more.
Sclera contact lenses are the perfect mix of weird and wonderful
The magic of Sclera lenses is the fact that there is no hint left of your real eye tint.
All the natural colour is gone, gone, gone. Once you put in your pair of sclera contacts, you have a full eye of whatever wicked look you're after.
The whole point of these 22mm Sclera contact lenses is that the YOU that people know by the colour of your eyes has vanished completely. It's no wonder people who know you and that includes close friends, get all squeamish and unsettled by the freakish eyes you are now showing them.
If you've ever dreamed of having eyes that are straight out of a nightmare, then these are your answer.
A Halloween and Fancy Dress Favourite
Whenever you're looking for a special Halloween look or something extra for your fancy dress costume, you can't go past a freakin' awesome pair of coloured contacts. They are the icing on any top outfit and they take something even so-so and give it a Wow factor.
Don't second guess wearing your new pair of 22mm Sclera eye contacts, you will get noticed and big time! The thing is, you want to get first rate lenses, not some cheap crap that is going to look lame or worse – put you at risk of eye damage. Bollocks to that!
The ticket to a great outfit and a top look is here.
Colour Your Eyes have a great selection of EU quality certified lenses. That's the best in the business, so you can relax and have the time of your life. That's what parties are all about.
The ultimate in Sclera contacts and a whole word of other coloured lenses are all yours – that's online, anytime.
For a wicked and wonderful look, just Colour Your Eyes.